PC Client Configuration Menu Options
To access the ESChat Configuration menu in the PC Client, select the ESChat tab and then Options from the drop down menu.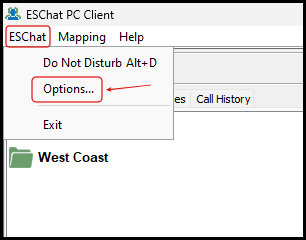 Personalities
The following user information is displayed here:
User Name: The User Login displayed on other ESChat client devices
Enterprise: The sales conduit/server host for your business name
Customer Name: The business name of the ESChat account
Path to the EPTT file containing the various ESChat users with an account saved on the device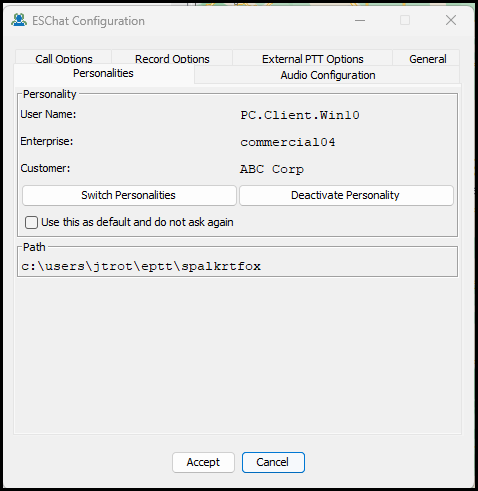 *Note: Switch Personalities is used to sign out and select a different User Login. A drop down menu will show available personalities stored on the PC. Deactivate Personality is used to Sign Out of the PC Client Console without receiving a warning message on the next client start up.
Audio Configuration
Use this tab to select the Input/Output device and volume levels. If using a headset/microphone you must select the proper device from the available drop down menu before you can send or receive audio.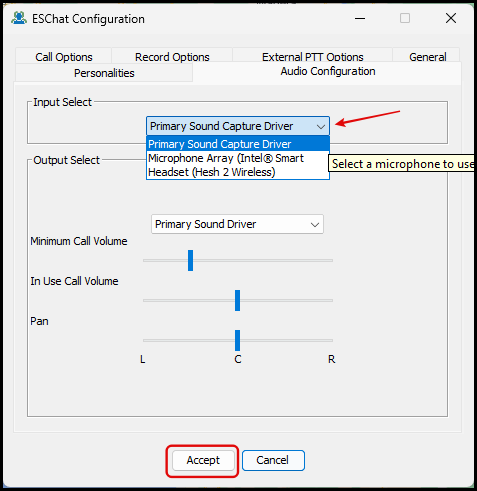 Call Options
Make changes to the following:
Ringer settings

Barge Calls: On/Off
Alert Calls: Ring time in seconds (15, 20, 30, 45, 60, unlimited)

Authorize Tones
Apply advanced Features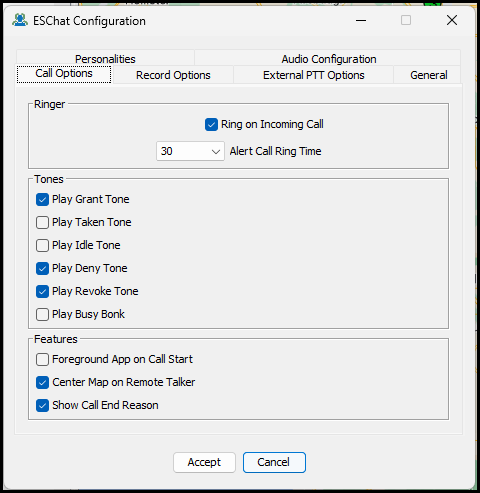 External PTT Options
Make changes to the following:
Use External PTT Input: Set a specific key combination to use as a PTT Button. (Not all combinations will work as some keys have specific functions tied to Windows, like the Windows key, or shortcuts such as Ctrl + P.)
Key: Select the key you would like to use as a PTT talk button shortcut
The check boxes below regulate what other keys, in addition to the key you programmed, will be required to press simultaneously.
For example, if the ] (right bracket) key is entered in the key field and the box is checked for Shift, then pressing Shift and the 1 together becomes the PTT button (Shift +1).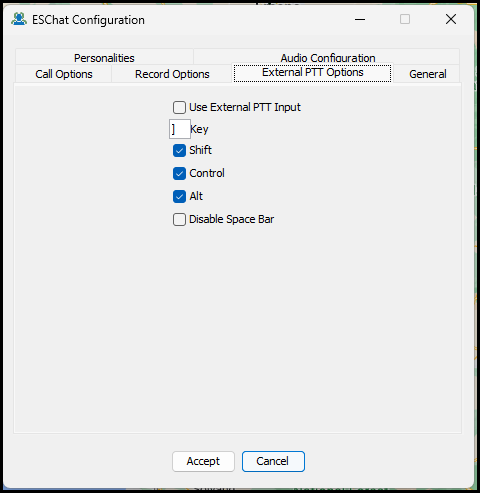 General
Choose whether to display the map on the right or left side of the split screen.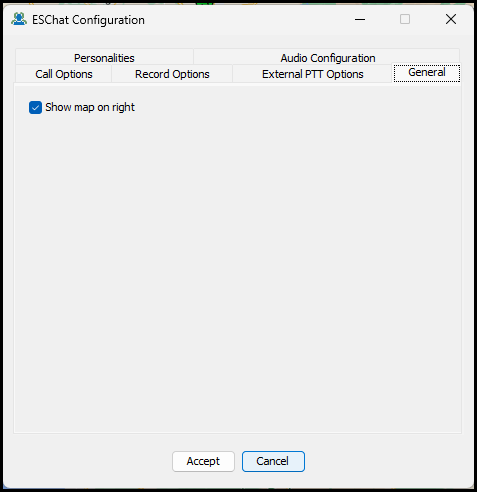 Be sure to "Accept" all changes. It's also important to ensure that the PC Client user is configured in the Admin Portal to show groups, even if all of the devices are set to show channels.