Aina Voice Responder PTT
Aina Wireless makes a PTT Voice Responder that pairs with your iOS devices.

https://www.aina-wireless.com/ptt-voice-responder/
Whereas all Bluetooth pairings used to be made only in the settings section of the device, with ESChat 12.0 you must pair your devices within the ESChat app after first going to your device's settings and pairing them there. This is due to new security requirements from iOS.
To pair the Aina Voice Responder for use with your ESChat app:
Make sure the BT device is turned on and physically near to the iOS device.

To clear the Voice Responder, click both of the side PTT buttons and both of the channel select buttons (<>) until the blue light appears.

Go to the settings on the iOS device and enable Bluetooth.

Pair the device.

Now, go to the ESChat app.

Go to the Client Settings Menu under the "More" tab, and select "PTT Button."

In the drop-down menu, select Bluetooth LE.

Press the PTT button while the device is attempting to pair to encourage a connection.

When the connection is successful, a picture and name of the device displays on the line.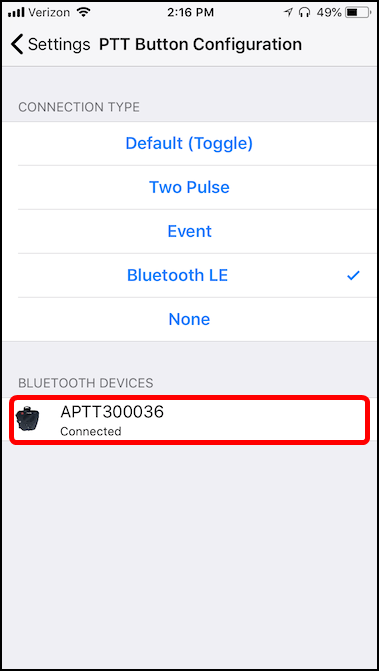 10. Go back to the settings menu, and see that the device is listed there.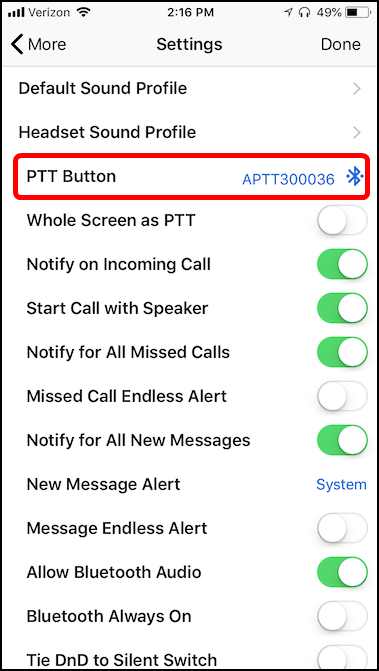 11. Note that in the menu below, that "Allow Bluetooth Audio" is selected.
12. Press "Done" to exit out of the Client Settings Menu, and your device is now paired.